What Our Clients Say
Thank you to the clients who have permitted us to display their comments.
---
My wife and I were in need of an updated will and associated documents. Attorney Jonathan Karp took the time explaining all of our options to us in a clear and concise manner, and the process was smooth to get all of these items completed. Would definitely recommend him if you are looking for estate planning.

5 star review Jeremy
---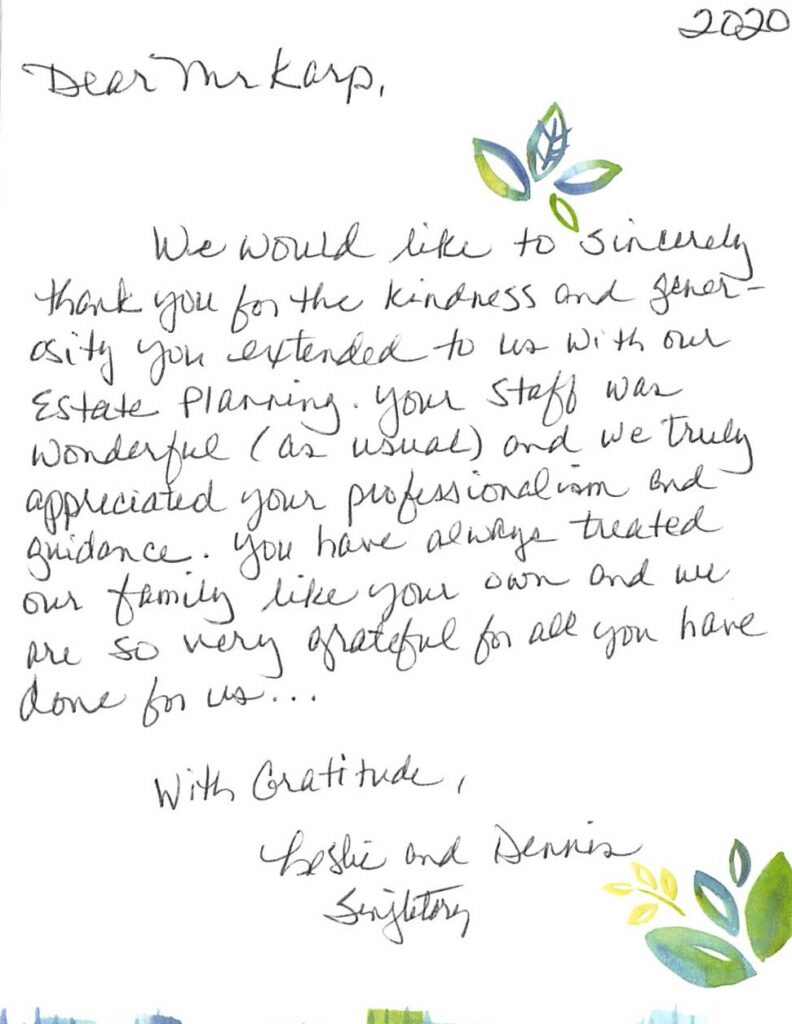 ---
An excellent experience.  My husband and I just used the competent service of Jonathan Karp. We were pleased from the first complimentary consultation to completion of our wills. He explained everything in detail to us and we are free to call him with any questions or changes at no charge. We now have everything in place as they provided us with a binder with all of papers for easy access and a zip disc for our computer. Johnathan is kind, professional and the entire experience was worth every penny and it was very affordable. I would recommend him to anyone seeking his legal experience.

– Candace and Phil
---
My wife Cathy and I recently met with Jonathan I would like to say that first of all the whole office staff and the environment was very nice Jonathan was able to handle all of our needs and all of our questions it certainly is nice to go to a professional and know that everything that you wanted to talk about and have completed was done if you were thinking about needing Attorney I would certainly recommend Jonathan Karp –

5 star review Michael
---
Everyone I dealt with at The Karp Law Firm was very receptive to my needs, concerns, and questions. Whenever I called, I was able to get my questions answered. If I emailed the firm, I received answers quickly. I cannot think of any ways things can be improved at least from my dealings with the firm. Thank you all very much for your services, caring and concern.

– Joyce
---
---
"They are the best law firm. Good job guys. I know so many people they have helped, including myself. Joe Karp has to be the wisest man I ever met in my life, and the most generous."

-Mr. Tommy Richards
---
"The firm settled by brother's estate, so I am using the firm going forward. Very satisfied. Adele is a superstar. Receptionist is excellent."

-Ms. K.F.
---
"Everyone is wonderful at The Karp Law Firm. We have had very good experiences every time! Everyone is professional, kind, and excels at customer service. I have recommended The Karp Law Firm to many of my friends."

-Mr. and Mrs. Greg Berton
---
– Mr. and Mrs. L.M. 
---
---
"Everyone is wonderful at The Karp Law Firm. We have had very good experiences every time! Everyone is professional, kind, and excels at customer service. I have recommended The Karp Law Firm to many of my friends."
-Mr. and Mrs. Greg Berton
---
"I felt comfortable knowing that Attorney Karp was a Certified Elder Law Attorney and he had a great depth of knowledge and experience in estate planning. This was a new (and confusing) process for me and I appreciated the patience and support shown to me."

-Ms. D. Jones
---
"Our parents had their trust set up through your law firm. When they passed away it was very easy to deal with their estate. We thought it was set up well and wanted that for our child when we pass. We were pleased by the whole process. It was fast, organized and fairly priced."

-Mr. and Mrs. Douglas Shannon
---
"I was very impressed with the staff's ability to work as a team. Everyone was very friendly and professional."

-Mr. Hallet Duncan
---
"I would trust Mr. Karp with my life… and I have."

–Mrs. Linda Hawthorne 
---
"I'm just wanting to say how lucky we are to have you and your firm assisting us. You've organized us, and because you don't forget us once the 'work' is done, we feel part of your firm's on-going family where we always turn to for answers and advice. You have been wonderful for us. Thank you!"

-Mr. and Mrs. Paul Fleischaker
---
"We appreciated the time afforded to review the plan prior to the formal period of explanation and signing. We believe your greatest strengths are: A very service oriented firm. You provided all that you promised at your seminar. We came away from the final session with the feeling that nothing was left unsaid or unexplained."

-Former Client
---
"This was our fourth trust and estate plan. Two of the previous trusts were drawn up by large international law firms with large estate planning departments. They provided us with excellent trusts, but we didn't fully understand them. It left a void. We came away from this new trust without the feeling of a void!"  

-Dr. and Mrs. Edward Cioffi 
---
"I felt that I was treated as if I were a friend. Under the circumstances, that meant a lot to me."

-Ms. Pamela O'Brien  
---
"I clerked for Joe Karp in my first summer of law school and consider him to be one of the finest attorneys in Palm Beach County. Both Joe and Margaret were phenomenal in their responsiveness and communication of all aspects of their legal services to my husband and me! I do and will continue to highly recommend The Karp Law Firm to all persons seeking estate and elder law services."

-Ms. Dina Tarro
---
"My sister and I want to thank you for the incredible work that you did to get our Mom Medicaid approved. We wish you all well and if we can refer anyone to you, we'll be more than happy to do that. Best regards."   

-Ms. Helen Kleinman-Feldhaus
---
"Your firm gives me a sense of security. When the time comes I trust either my husband or myself will know what to do and receive your help."

-Mr. and Mrs. J.E.
---
"I felt Mr. Karp was very helpful. I feel he is honest and works to give his clients what they need and should have, and sorted out all concerns. It was a pleasure. Khristina was very helpful and responsive."

-Mr. G.G.
---
"The Karp Law Firm does all our legal work. Rebecca is very professional and a nice person to work with."

-Mr. D.L.
---
"I first found The Karp Law Firm when going to one of Joe Karp's interesting seminars. It gave me hope as I had the care of an elderly mother with dementia and I was alone.

"Your office is convenient to me, living in Jupiter. You may not know this but for me, being able to bring my little Maltese with me provides a calming effect for me. She sits quietly in a chair while my work is bring done. I was there recently with Adele Harris: such a wonderful, professional and knowledgable young lady. She helped me update my existing Will. Your office puts me at ease and that is important to me, along with the knowledge and help they give."

-Ms. Phyllis Beall

Note from The Karp Law Firm: Little, well-behaved dogs are welcome!
---
"I liked your down to earth approach. You were very honest and forthcoming."

-Mr. and Mrs. Gerald Galvin
---
"I am grateful for the advice and guidance I received from everyone I dealt with at The Karp Law Firm. Attorney Harris and S. Delia were extremely helpful to me. Thank you!"

-Ms. J.W.
---
"I was totally impressed with the legal services given to me, not only by Mr. Karp but also Adele Harris who was very kind and informative. Will certainly refer anyone who is in need of your services. I can't say enough good things about The Karp Law Firm."

– J.A.
---
"I can't thank you enough for your expertise in resolving my father's financial problems – which were enormous! After our initial meeting, you told me everything will be all right, and that was the first glimmer of hope I'd had in weeks. Words cannot express my gratitude, but I will be forever grateful."

-Ms. Mary L. Warman
---
"Even people of moderate means are treated with dignity and concern…Thanks for being so helpful to me during such a crucial period."

-Mrs. Rosalind Weinberg 
---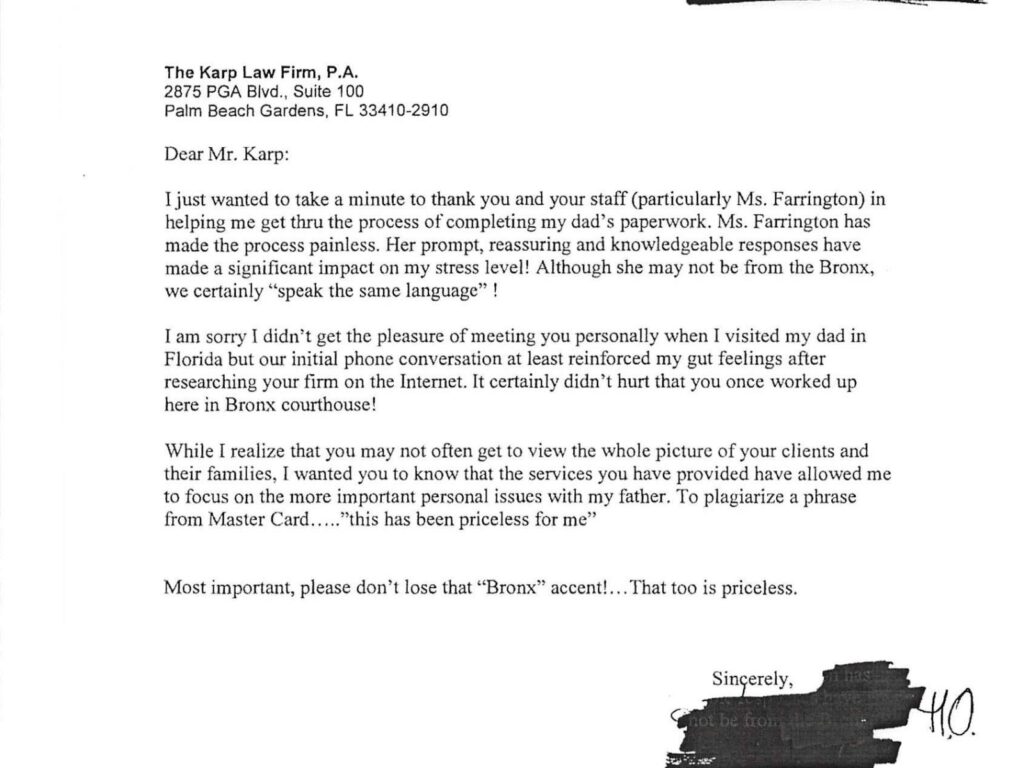 ---
"Your complete professionalism along with kindness and wonderful understanding was incredible. I cannot think of anything that needs improving. Thank you for all your help."

-Ms. Cynthia Greenwald
---
"Joe – I want to thank you and your staff for the professional and expert information imparted and for always being available for our myriad questions and concerns. I also appreciated you having multiple offices, email accessibility and conference calls.  I have been sharing your name with friends and colleagues.  Now more than ever, I believe in being informed and educated about future challenges…I hope others will turn to you as I have."

-Arlene
---
"Rebecca is great! The entire staff at Karp Law Firm is awesome – especially Deeanna and Rebecca whom we have had the most contact with. We have recommended The Karp Law Firm to many of our friends."

-Mr. and Mrs. G.B.
---
"Joe Karp is extremely knowledgeable, and states legal matters in an easily understood way. Great sense of humor!"

-J.K.
---
"Everyone in the firm works for the client and gives 100%! Thank you for making the process easy."

-Ms. Dana Tenenbaum
---
"The firm handles everything in a very professional and timely manner. I appreciated the attention to all the details and felt my needs were very well taken care of. Gail Brown was very helpful in all my communications regarding my father's estate. I would definitely use and recommend the firm in the future."

-Mr. R.R.
---
"We liked Adele very much. She has a wonderful personality and knows her 'stuff.' We have no complaints. I think all things were handled well and we very much appreciate all that was done and at a fair price."

-Mr. and Mrs. P.B.
---
"I have always appreciated Rebecca's personable and outgoing manner. Her work is always thorough and meticulous. She always responds quickly to our questions and problems whether it is tax season or not."

-Ms. Janice Weigold
---
"I went to hear Mr. Karp speak 3 or 4 times. He is the best. Everyone is very professional. Deeanna Farrington was very helpful. She always returned my calls. I found her very easy to talk to. And I thank her for that."

-Mr. Dennis F. Dempsey
---
"Everyone was very responsive to my questions and called back promptly when I left a message. I could not have asked for better service."

-Mrs. Eleanor Friedman
---
"Rachel is a gifted professional – direct and to the point. Her knowledge of Florida law in regards to trusts is impressive. She was prompt in her revision, precise in her presentation and so pleasant to work with."

-Ms. J.R.
---
"The Karp Law Firm prepared our trust documents several years ago and we felt comfortable with the firm. Rebecca Maglio prepared our taxes last year and this year. We enjoy working with her. Rebecca is an asset to your organization and we will use The Karp Law Firm next year as well."

-Mr. and Mrs. K.M.
---
"After going to the seminar, I knew that Mr. Karp was the right fit for our needs. Mr. Karp is very approachable, and knows how to explain the legal jargon in plain English. Debbie is wonderful. After speaking to her I was convinced that The Karp Law Firm was the right one for us."

-Mr. and Mrs. J.V.
---
"I was very pleased with the excellent attention and advice given in regard to my issues and those of both my late husband in the past and my family. I feel secure in your hands. I felt that I was getting very warm and caring help with my questions and concerns."

-Mrs. C.L.
---
"Just a note to tell you what a pleasure it was to work with Pat Vivirito and Adele Small. We recently finished settling the estates of my parents… You are lucky to have such wonderful people on your team. I would like to thank you as well for the service you rendered to my dad."

-Dr. B.G.
---
"The free seminar was truly far and away more than I expected – chock-full of info because of the very important points that Joe brought out. He was clear and understandable. Made me realize how much I did not know and how very vulnerable on several fronts I was.

"The compassion of Joe and on down: he sets the tone of the firm. His private free consultation was invaluable. I left knowing what I had to do in the immediate and what to do in the future.

"I appreciate that Joe is certified whereas the others I inquired of specialized in elder law but were not certified. Very impressive.

"Thanks again, Rochelle."

-Rochelle M.
---
"In day to day correspondence, I worked with Janet Suarez. Janet was always ready to explain the steps I needed to take, and did so with patience and kindness. I also worked with Adele Harris, and she also was supportive and clear. They both helped me get through the probate process and I appreciate their support."

-Ms. L.C.
---
"Never needed a lawyer but an old friend recommended your firm. Now I will pass on the great favor. I will always be thankful to my friend for giving me the name of Joe Karp. He gave me info I never knew I needed. I was and I am so pleased with Mr. Karp. He has been so helpful and caring with all our needs.  I feel like he is now my 'Great Protector.' I feel like he has gone above and beyond for us. I know I will be able to call on him for anything."

-Mrs. Constance Jacobs
---
Asked why she chose The Karp Law Firm:

"Because it is the best. I retained Joe Karp in 1996 and 1997 when I was in charge of my friend's trust. I also had a trust done by him and have sent several clients to him, including my daughters. I was so pleased with Adele Harris and the receptionist at the front desk. Many thanks."

-Ms. Evelyn L. Parker
---
"Everyone I dealt with at The Karp Law Firm was very receptive to my needs, concerns, and questions. Whenever I called, I was able to get my questions answered. If I emailed the firm, I received answers quickly. I cannot think of any ways things can be improved at least from my dealings with the firm. Thank you all very much for your services, caring and concern."

-Mrs. Joyce Teich
---
"I knew Mr. Karp many years ago when I worked in the court system. He was reputable, well-liked, and respected. More recently, in 2007, his current law firm helped us tremendously in dealing with the problems of an aging member of our family…. We put off doing a will for too long. The Karp Law Firm tackled this for us in such an effortless manner… We are ordinary folks, but were treated like royalty… The expertise, thoroughness, and integrity of this group is phenomenal…"

-Mr. and Mrs. George Vilardi
---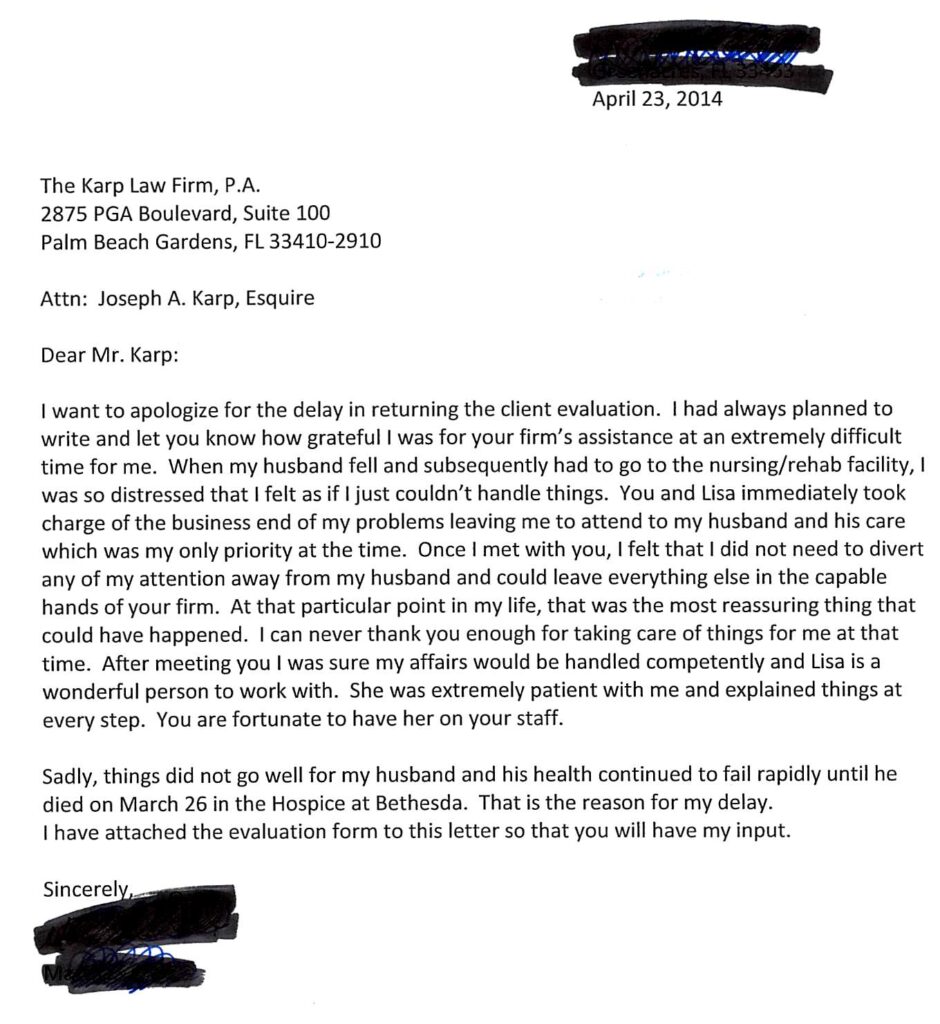 ---
"I just wanted to thank you and your staff for preparing our wills, living wills, and powers-of-attorney. My wife and I are very satisfied with the documents and appreciate the thorough explanations and advice you provided. After we complete the lists included in the portfolio, we will file it all away knowing that we are well-protected. We will certainly recommend you to others. Thanks again."

-Mr. and Mrs. A.H.
---
"We are very impressed by all the young women who worked with us. Their knowledge and kindness made us feel very comfortable to ask questions. They explained everything so well and took a personal interest in us and our family. Everyone was so open and patient with us and the resulting binder with all the documents and copies and "work" pages was far more than we expected. Thank you so much!"

-Mr. and Mrs. Gerard Lawlor
---
"I have known Joe Karp since I worked at Palm Beach County Courthouse 30 years ago. He was an excellent attorney then and he still is! He listens to my concerns and addresses them, advising me of what can be done and how and if I should proceed. I rely on his knowledge to guide me. I trust him completely!"

-Mrs. Mary Jean Hancock
---
"Went to free seminar August 2013. Was very impressed with Joe and the fact that he showed such compassion and a fabulous sense of humor. The cookies were really good too. Zamara Rosete was the assistant case manager assigned to me. She showed great caring and patience in answering ALL of my questions and allaying ALL of my concerns. She gave me as much time as I required, never rushed me. The firm's knowledge and Zamara's personhood  – PRICELESS. You made a very difficult process a lot easier. I am forever grateful and indebted to you and Zamara again and again."

-Ms. Rochelle K. Melamed
---
---
"I had tried unsuccessfully for a long time to get help for our situation. I went to your seminar hoping to get some different suggestions and wound up choosing The Karp Law Firm because I believed you could help. Before attending your elder care seminar, I had just about given up all hope of trying to get assistance for my wife and me. Your seminar convinced me that I needed to talk to you further about our somewhat unique circumstances. At our first meeting in your office, I explained that I was in a very difficult situation and had no idea what to do or where to turn. You said you understood and proceeded to ask a myriad of questions. By the end of the meeting, I was convinced that your firm could help. The entire process took a little over a year. In the end, The Karp Law Firm did everything as promised and the outcome was ideal. Your team's diligence in finding the best solution and extent of personal attention far exceeded my expectations. I want to especially thank Deeanna for her support, responsiveness and compassion on this case."
-Mr. Lewis Goulfine
---
"The articles in The Post were informative and the seminar presented by Mr. Karp was outstanding. Everyone was polite and readily answered my questions."

-Ms. Sharon Haste
---
"Altogether professional, pleasant interface with each and every member of your staff."

-Mr. and Mrs. Peter Lippman
---
"Professionalism, honesty and patience were all appreciated."

-Mr. and Mrs. S.F.
---
"Your people were superb. Explanations were crystal clear and got at arcane points. I got four times the services I thought I needed at one quarter of the cost I expected. In your office, these women worked together like clockwork."

-Mr. and Mrs. Spencer Norris
---
"Well-run firm. Responsive to clients' needs. And readily available to assist clients. Thank you for all you do."

-C.M.
---
"When we sat down and spoke to Mr. Karp he explained everything. He told us that there would be no nickel and dime fees and he lived up to that statement. We found that the service was first rate. Deeanna was very thorough and patient. Your organization is very caring and professional."

-Ms. Joan Stambleck
---
"Let me start by saying that you have a great staff. Whenever I called over the years for information or how do I do something I was always treated with respect. This to me is the most important thing and may I stress important. Everyone I dealt with over the years was absolutely kind, caring and concerned with my situation. They were able to assist me with answers to my questions and concerns. May I take this opportunity for a special thank you to Deeanna Farrington (veterans affairs). Without her knowledge and concern we would never have gone this far. Once again, Mr. Karp, you have a great staff."

-Mr. Anthony Pedone
---
"Rebecca is always in touch with me about the tax return. Her advice and knowledge of the tax code is amazing."

-Mr. and Mrs. William Fallacaro
---
"Joe – you are the first lawyer I ever enjoyed working with!"

-Ms. Linda Feinberg
---
"Mr. Karp, himself, cleaned out my old files and that really was helpful. He is a very kind and concerned man and I'm grateful. He also came to our home when my husband was too ill to travel. Everyone else with whom I've dealt at The Karp Law Firm has always been kind, courteous and helpful."

-Ms. Carol Miller
---
"Your firm is very thorough. All of our questions were answered. You took as much as time as was needed to explain any issue we might have."

-Mr. and Mrs. Bill Rose
---
"We received a full explanation of all aspects of our will, trust, etc., that needed to be addressed. We also got great advice on how to handle what could have been confusing issues for us."

-Mr. and Mrs. M.O.

---
---
---
"We really appreciate the firm's commitment to actually listening. It seems to be unusual in your business!"

-Ms. B. J. S.
---
"Phone calls were returned promptly and everything was always explained in detail. Also Deeanna was always eager to help me with a wonderful smile. I cannot thank you enough."

-Ms. Theresa Byrne
---
"I feel that you offer a valuable service. Would not be able to do the right thing for my family without your knowledge and advice."

-Ms. M.P
---
"Very knowledgeable, professional and most of all responsive to our needs. Thank you. All done in a friendly environment."

-Mr. and Mrs. Edward Gogol
---
"We have been extremely pleased with all aspects of your firm since 2000. We were very impressed with our meeting with Jon Karp. He is an excellent addition to your firm."
-Mr. and Mrs. Theodore Winters
---
"We have been with your firm for many years. Very informative, up to date on legislation, law, elder law. Thank you for taking such good care of us!"
-Mr. and Mrs. Richard Johnston
---
"Saw ad in paper in/around 2001/2002. Attended seminar and were very impressed with all aspects of firm. Quality of service is outstanding."

-Mr. and Mrs. M.F.
---
"Originally we saw your advertisements in various newspapers and publications. Several friends recommended your firm to us also. We are extremely pleased with your firm's services! As far as we're concerned, it's one of the best monetary investments our family has ever made. We just can't imagine having to navigate the elder nursing home Medicaid eligibility process by ourselves! Your staff does a terrific job. We can't think of any improvement you could make, as we're 100% satisfied. Thank you all, so so much (especially Deeanna and Mandy)."

-Mr.and Mrs. James Tabor