Florida Probate & Estate Planning Lawyer &
Special Needs Attorney Adele Harris
Attorney Adele Harris's practice is primarily focused in two areas – probate and estate and trust administration; and estate planning, with a particular focus on helping clients create special needs trusts to provide for loved ones with special needs, without affecting available government benefits. Adele serves clients with estate planning needs from the firm's offices in Palm Beach Gardens, Boynton Beach, and Port St. Lucie.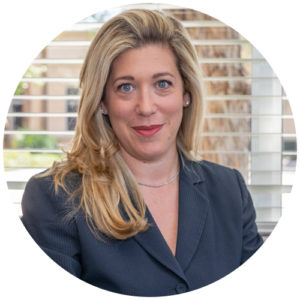 How I Help
The probate and estate administration of a loved one can be a difficult time.  Not only will family members be experiencing the loss of their loved one, but the Personal Representative (usually a family member) will need to carry out the administration and distribution of a loved one's estate, often with no prior experience in this area. I consider it a great honor to be able to help families through these transitions that all of us face in life.
I realize that Personal Representatives and Successor Trustees will likely have many questions about their legal obligations.  My role is to take on all legal aspect of this process, answer questions, and provide practical advice based upon experience.  The distribution of an estate typically requires handling and resolving a number of matters, including determining and paying valid creditor claims, filing final tax returns, protecting and preserving the estate during the distribution process, and addressing the sometimes difficult distribution process (especially when a will may be unclear, or when a will may not exist).
I help Personal Representatives and Successor Trustees by offering solutions to solve problems, and then helping to effectuate the chosen solutions.  In some cases, this may entail bringing together family members to reach a solution or resolution through an agreement.
What Prospective Clients Should Know
In addition to helping our clients with estate issues, I am passionate about protecting those with special needs.  As most parents of special needs children well know, our government provides little to no resources for those with special needs beyond very limited benefits.  Special treatments, vans and needed transportation, therapies, and many other aspects of helping those with special needs to reach their potential are unfortunately not part of most government programs.  I work with parents to carefully craft special needs trusts and plans that will help them maximize the care for their loved ones without affecting the limited government resources that may be available, now or in the future.
---
Client Review
We recently completed one of the most difficult estate matters possible due to some personal issues and we sincerely thank our attorney Adele Small Harris for her outstanding professionalism in handling this for us. We sincerely believe without her hard work on our behalf that this matter would STILL be ongoing and a resolution far in the distance if at all. Thank you Adele, we are so pleased we hired you for this effort.
5 Star Review – Anonymous
Credentials, Memberships, Recognitions
---