Florida Elder Law & Estate Planning Blog
---
No Vanderbilt-Size Inheritance for Gloria's Sons
July 19, 2019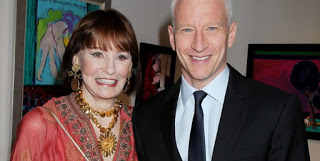 Socialite and clothing designer Gloria Vanderbilt died on June 17 at age 95, just weeks after being diagnosed with advanced stomach cancer. The great-great granddaughter of railroad tycoon Cornelius Vanderbilt, at a young age she inherited what would be $35 million in today's funds. At her death it was widely reported that her sons, including news commentator Anderson Cooper, would not get an inheritance. In 2014, Cooper had said, "My mom's made clear to me that there's no trust fund. There's none of that."
Well, it turns out there is some of that. Vanderbilt's will, filed recently in New York surrogate court, reveals that her sons are getting an inheritance. Charles, her son with conductor Leopold Stokowksi, will inherit her antiques-filled Manhattan co-op. Cooper will get "everything else," estimated at about $1.5 million.
That's a lot of money by most people's standards. But by Vanderbilt standards, it seems rather paltry. What happened to Gloria Vanderbilt's money? According to a June article in Forbes, Gloria spent her own funds lavishly. Even though she generated millions of her own dollars from the line of jeans she established in the 1980s, she ultimately had to sell two homes to pay her tax bill. Four divorces probably didn't help, either.
Her will is a "tell" that there is no Vanderbilt-sized estate. Her assets were not in a trust. Her will does not include tax planning of any type. Her estate plan does not even attempt to keep her affairs out of probate.
Vanderbilt also has a third living son, Chris Stokowski, who estranged himself from the family four decades ago and has stayed out of the public eye. He gets nothing from his mother. A fourth son, Anderson's brother Carter Anderson, committed suicide in 1988, at age 23.