The Karp Law Firm participated in several professional and educational events in May 2022.
Social Worker Appreciation Luncheons
The firm participated in two Social Worker Appreciation events, held May 10 in West Palm Beach and May 13 in Port St. Lucie. On hand to answer questions and hand out literature were Attorney Jonathan Karp, Licensed Clinical Social Worker Deeanna Farrington, and Legal Assistant Jennifer Hammond. The events included a lunch honoring the caseworkers and social workers who do so much to protect the most vulnerable members of our communities.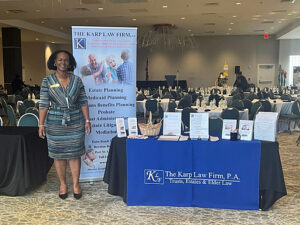 Deeanna Farrington, LCSW, at the Social Worker Appreciation Luncheon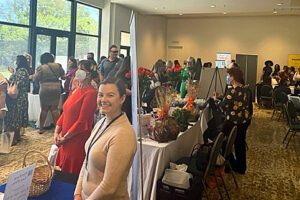 Jennifer Hammond, Legal Assistant
Alzheimer's Educational Conference
On May 18 Alzheimer's Community Care held its Annual Educational Conference at PGA National in Palm Beach Gardens. Attorney Jonathan Karp and Legal Assistant Jennifer Hammond manned an informational table. The theme of this year's conference was "Influencing Change" and focused on innovative Alzheimer's treatments and maintaining brain health. Featured speakers were geriatric psychiatrist Marc Agronin and neuroscientist Stuart Zola.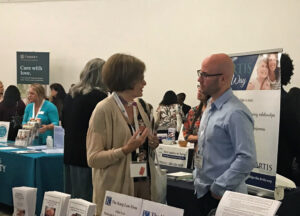 Attorney Jonathan Karp and a colleague at the educational conference.
NAELA Conference, Scottsdale, Arizona
Attorney Joseph Karp attended the annual conference of the National Academy of Elder Law Attorneys in Scottsdale, Arizona from May 12 – May 15.  The conference brought attendees up to date with the latest developments in elder law and special needs planning, tax issues in estate planning in view of the newly revised tax code, alternatives to guardianships, and more. Following the conference Mr. Karp and his wife spent an additional day in Arizona touring the Grand Canyon. They also saw the total lunar eclipse under clear Arizona skies!
Attorney Karp and a colleague chat at the conference.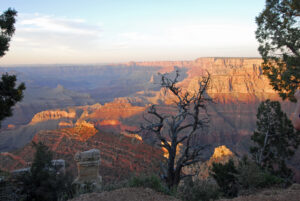 Grand  Canyon at sunset