Karp Law Firm attorneys and staff enjoyed seeing many colleagues and caregivers at several events this May.
A "Social Workers Appreciation Luncheon" was held on May 10 at the St. Lucie Trail Golf Club and on May 11 at the West Palm Beach Hilton. Hundreds of caseworkers and social workers attended the events, which honor these professionals' invaluable contributions to our community.
On May 17, Alzheimer's Community Care hosted their annual educational conference at the Palm Beach Gardens Marriott. This year's theme was Precision Approaches to Care. Featured speakers were Dr. David Watson, Psy.D., and physicians James Galvin and Tatjana Tundek.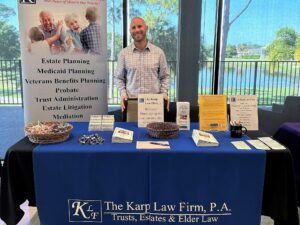 Attorney Jonathan D. Karp answered questions and chatted with social workers at the Social Workers Appreciation Luncheon in Port St. Lucie.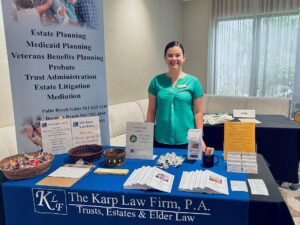 At the Alzheimer's Communtiy Care Educational Conference:  Jennifer Hammond, The Karp Law Firm Medicaid Assistant Case Manager & Estate Administration Legal Assistant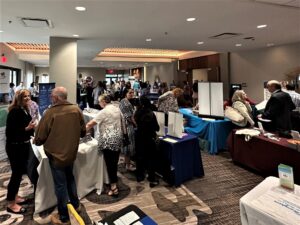 Attendees at the Alzheimer's Educational Conference in Palm Beach Gardens